Each year, Omicron Delta Kappa recognizes its most outstanding student leaders with the Gen. Russell E. Dougherty National Leader of the Year honors. This program is named in memory of Gen. Russell E. Dougherty (University of Louisville, 1947). Gen. Dougherty was a one-time staff member with the Federal Bureau of Investigation. He also served in the U.S. Air Force as commander in chief of the Strategic Air Command and director of strategic target planning.
The Society recognizes a student in each of the five pillars of campus life celebrated by O∆K: academics and research, athletics, service to campus and community, communications, and creative and performing arts. Each of these individuals receives a $1,000 award. The committee also selects one student to receive the Gen. Russell E. Dougherty National Leader of the Year Award, which comes with a $4,000 prize.
Click on each name below to open their profile.
Tesia Shi | Gen. Russell E. Dougherty National Leader of the Year
Tesia Shi
University of Maryland, College Park, 2021
Tesia Shi graduated from the University of Maryland, College Park (UMD) in May 2023 with a Bachelor of Science with a major in neurobiology and physiology. She also earned a second bachelor's degree with a major in psychology. Shi had a 3.98 GPA and was a recipient of the Banneker Key Full Scholarship, a full four-year merit scholarship. After graduation, she intends to pursue an M.D. or Ph.D. in clinical psychology, with the goal of becoming a mental health professional.
Shi has devoted much of her collegiate leadership experiences to advocacy and engagement work, focusing on mental health awareness and prevention of sexual and relationship violence. She served as co-editor in chief of the Disorientation Guide, leading 12 student writers in creating a 101-page digital guide to educate students about mental health, LGBTQ+ advocacy, and sexual health. As co-founder and president of Lean on Me College Park, she helped found the institution's first peer-to-peer, non-crisis text line, providing the student body with anonymous, emotional support through more than 20,000 exchanged messages. As part of the Student Outreach Team for CARE to Stop Violence, she facilitated more than 20 bystander trainings for first-year students and worked on campus-wide events related to relationship violence prevention, outreach, and advocacy.
Shi has worked as a research assistant in the Maryland Psychotherapy Clinic and Lab and the Shackman Affective and Translational Neuroscience Lab. Within the Gemstone Honors Program, she served as a research team member on Team DRINK, examining the role of ethanol within acute alcohol poisoning in the blood-brain barrier. In addition, Shi was the co-director of the Gemstone Alumni Mentor and Partner Program, leading monthly career development workshops for 40 honors students.
Shi is a member of the Federal Fellows for Public Health Policy, participating in a health policy seminar and internship program. She has received several honors, including the Maryland Summer Scholars Award from the UMD Center for Undergraduate Research, the Ed Snider Leadership Award, and the Do Good Accelerator Fellow.
Blakely Hardin | National Leader of the Year - Academics and Research
Blakely Hardin
University of South Carolina – Columbia, 2021
Blakely Hardin will graduate from the University of South Carolina – Columbia (USC) in May 2024 with a Bachelor of Arts with a major in Education Policy, Law, and Government. She has a 3.95 GPA and is a member of Phi Beta Kappa. Hardin is also a Carolina Scholar, one of USC's three most distinguished merit awards. After graduation, she intends to attend law school and work as an educational policy attorney in the nonprofit sector.
Hardin has participated in seven fellowships, internships, and research programs. She is currently serving as an education policy intern for the South Carolina Honors College, where she analyzes state education agency accountability by reviewing 25 years of public reports. Previously, she worked for the American Enterprise Institute, the Dandhills School, Burr and Forman, LLP, and the University of South Carolina's National Fellowships and Scholar Programs Office. She also was a diversity, equity, and inclusion (DEI) intern for the Arras Foundation, researching effective DEI teaching methods and educational disparities in two South Carolina counties. As a mayor's fellow for the City of Columbia, South Carolina, she completed research projects for the Office of Budgets, Program Management, and Grants.
Hardin's collegiate leadership experience includes serving in the USC Student Government as the deputy secretary of government relations and later as the division secretary of external relations. In this role, she led a 35-person team in establishing strong relationships with the USC administration and elected officials. Hardin also was the director for diversity and inclusion for the College Panhellenic Association and was the communications director for The BIG Event, a one-day community service event which sends USC students to volunteer sites to complete projects requested by local residents.
Andrea (Andi) Kezh | National Leader of the Year - Service to Campus and Community
Andrea (Andi) Kezh
Oglethorpe University, 2021
Andi Kezh graduated from Oglethorpe University in May 2023 with her Bachelor of Arts with a major in communications and media studies. She also earned minors in nonprofit management and urban leadership. Kezh had a 4.0 GPA and intends to pursue a career with a nonprofit, focusing on public health, after graduation.
Kezh served as the president of the Alpha Phi Omega (APO) National Service Fraternity at Oglethorpe, organizing multiple service programs such as blood drives, bone marrow registry drives, campus and community cleanups, and collaborations with Books for Africa and the Atlanta Community Food Bank. In addition, she led efforts for Oglethorpe's APO chapter to collaborate with the African Student Association and other Atlanta-area APO chapters. Kezh was also the president of the Oglethorpe O∆K circle.
As a senior senator in Oglethorpe's Student Government, Kezh created a Giving Tuesday campaign to support an Oglethorpe student whose family in Haiti faced significant financial challenges. In addition, she  supported the growth of the university's student-run food pantry. Kezh also organized the institution's Martin Luther King, Jr. Day of Service in February 2023, bringing together Oglethorpe's student government, APO chapter, and O∆K circles as partners.
Outside of her collegiate leadership and service, Kezh has a long-standing relationship with Smile Train, which provides free cleft-repair surgeries to children in developing countries. Since 2009, she has raised more than $25,000 to support the organization. Kezh was named a Smile Train Ambassador in 2018, where she traveled to India to visit partner hospitals in remote villages. Her undergraduate thesis study was focused on how sociocultural and religious beliefs impact cleft-affected individuals.
Brooke Dominiak | National Leader of the Year - Communications
Brooke Dominiak
Furman University, 2022
Brooke Dominiak graduated from Furman University in May 2023 with a Bachelor of Arts with a major in communication studies and a 3.8 GPA. Since graduating Dominiak has relocated to Silicon Valley, California to work at Adobe while simultaneously pursuing her MBA in entrepreneurship at Clemson University.
Dominiak served as president of the Student Entrepreneurship Association. In this role, she has grown the club to more than 50 members, judged student pitch competitions, and received $2,000 in grant support. She has served as the innovation and entrepreneurship intern and strategic marketing/community partnership summer fellow for Furman's Innovation and Entrepreneurship Institute, tripling the organization's social media followers and holding more than 50 stakeholder meetings with local leaders.
Dominiak was the first-place winner of Furman's Second Annual Paladin Pitch Competition, winning $10,000 to support her start-up venture of an on-campus food delivery app called To-Go Bro's. In addition, she earned more than $30,000 in seed money from other sources to support the new venture. Dominiak also received first place in the Southern Conference Entrepreneurship Challenge. In addition to being a member of Omicron Delta Kappa, she is also a member of Lambda Pi Eta, the National Communication Association's honor society, and Phi Eta Sigma, a first-year student honor society.
Emily Javedan | National Leader of the Year - Athletics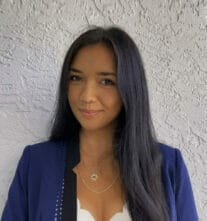 Emily Javedan
Johns Hopkins University, 2021
Emily Javedan graduated from Johns Hopkins University (JHU) in May 2023 with a Bachelor of Science with a major in environmental studies and a minor in psychology. Javedan had a 3.95 GPA and intends to pursue a career focusing on corporate sustainability upon completing her Master of Science in environment and sustainability management at the Georgetown University McDonough School of Business.
Javedan was the team captain and a four-year athlete for JHU's women's tennis team and was named an Interscholastic Tennis Association Scholar-Athlete for four consecutive years. She was also awarded the Centennial Conference Sportsmanship Award for the 2021-22 season and was ranked 13th in the nation in doubles. Javedan also advanced to the Elite 8 of the national tournament and is now a 4-time school record holder and 2-time First Team All-Conference. As a team representative to the Student-Athlete Advisory Committee, Javedan helped organize community outreach and volunteer events. She is also a volunteer coach with ACEing Autism, mentoring and playing tennis with youth with autism. Javedan signed the largest Name, Image, Likeness (NIL) deal in Hopkins' history when she became a partnered athlete with Bumble Incorporated. In this role, she organized campus and media events to empower and involve peers in social and environmental justice issues.
In addition to her athletic pursuits, Javedan's other collegiate leadership included serving as chapter president for Sigma Gamma Epsilon National Earth Science Honor Society. She was the vice president of marketing, media, and grants for Stemnova, a nonprofit offering STEM education to K-8 students through afterschool programs and training high school and college students for further outreach efforts. Javedan completed three internships. Her first internship was with Defend Our Health focusing on research to help Maine families test their wells for arsenic. Javedan's second internship was with Ecological Laboratories, Inc., where she focused on a research project with microbiologists working on strategies to mitigate toxic algae. Her third internship was as an associate in the Global Sustainable Packaging Department of Mars, Inc., where she spearheaded a report on the company's consumer recycling guidance in twelve countries.
Matthew Ober | National Leader of the Year - Creative and Performing Arts
Matthew Ober

University of Maryland, College Park, 2021
Matthew Ober received a Bachelor of Music in May 2022 and a Bachelor of Science in information science in May 2023 from the University of Maryland, College Park (UMD), magna cum laude with a 3.96 GPA. Ober was also awarded the Model Citizenship Prize, the university's most prestigious award which has most nearly typified the model citizen and has contributed significantly to the general advancement of the interests of the university. Upon graduation, he will be attending the Peabody Institute of the Johns Hopkins University for his Master of Music and intends to pursue a career supporting the arts through performance, education, and administrative support.
Ober was the founder and president of The Flute Society and a member of Pi Kappa Lambda, a music honor society. He was an ambassador for the UMD School of Music and was the school's representative on the College of Arts and Humanities Dean's Advisory Board for six semesters. As the elected representative to the School of Music Undergraduate Committee, Ober helped prepare for the National Association of Schools of Music accreditation review process. He is the first-prize winner of both the South Carolina Flute Society Collegiate Artist Competition and the Flute Society of Washington Collegiate Soloist Competition. Ober was a semifinalist in the University of Maryland's Symphony Orchestra Concerto Competition.
In addition, to his musical pursuits, Ober served as president of Maryland's O∆K circle. He was also a member of the Vice President of the UMD Student Affairs Student Advisory Council and director of membership for the National Residence Hall Honorary.