The Omicron Delta Kappa Student Advisory Board (SAB) was first established in 2014. The National Student Vice Chair serves as the chair of the SAB. The SAB is charged with exploring and recommending strategies for engaging collegiate members in circle activities, circle leadership, the National Leadership Conference, and other volunteer roles outside of service on the Board of Trustees or committees. In addition, the SAB is responsible for advocating for the student perspective in the discussions regarding communications, policies, and procedures. The Student Advisory Board also works in conjunction with the National Leadership Conference Planning Team to offer a conference program related to its mission. The SAB holds a Town Hall style meeting twice a year.
Angelique M. Mevorah
National Student Vice Chair and Chair, Student Advisory Board
Angelique "Angie" M. Mevorah is a 2020 initiate of the St. John's University (SJU) Circle. She served as circle president and was a member of the Marketing Committee for the 2022 National Leadership Conference. Angie is the 2023-24 chair of the Student Advisory Board and National Student Vice Chair.
Angie is a recent graduate from St. John's University in Queens, New York, where she completed her Bachelor of Science with a major in business and a legal studies and international studies double minor. She is currently enrolled in the Peter J. Tobin School of Business at St. John's, where she is in an accelerated program to complete her MBA. Following her MBA, Angie hopes to attend law school. In the summer of 2022, she completed an internship with Wage Indicator Foundation, an international labor transparency research institution. Angie is also the Eastern Region fellow through Fair Trade Campaigns. Through her fellowship, she manages communications between the national level and campaigns at colleges, universities, congregations, schools, and towns.
As an undergraduate, Angie was involved in several collegiate employment opportunities at SJU, including working as a Discover New York Peer Leader and a staff member in the university's Office of Career Services. She was also involved in many collegiate activities, including being a research assistant, serving as editor of The Torch (St. John's student-led award-winning newspaper), human resources manager, vice president of the Animal Rights Association, budget committee application analyst chair, Catholic Relief Services Fair Trade chair, and the Fair Trade Committee's student leader. Angie's leadership extends past the campus level, as she volunteers her time as a tutor for the NYC area through EDUMATE, whose mission is aimed at connecting NYC in-need public school students with college students for free tutoring services.
Rebekah A. Lassiter
National Student Vice Chair-Elect and Vice Chair, Student Advisory Board
Rebekah Lassiter is a 2022 initiate of the Wake Forest University Circle. She has served as Vice President of her University's Circle and is the 2023-2024 National Student Vice-Chair Elect and Vice Chair of the Student Advisory Board.
Rebekah is a senior at Wake Forest University with an anticipated Bachelor of Arts in Art History and Bachelor of Science in Biology. She is a current student research assistant at St. Jude Children's Research Hospital and board member and treasurer for Gateway Nature Preserve.
She is an active volunteer and previous co-student coordinator for Wake Forest's Campus Kitchen. Campus Kitchen combats food insecurity by preparing and delivering meals to community members. She is also the past president of Wake Forest's Neuroscience Club and Vice President of Tri-Beta (Biology Honors Society).
Mary E. Stuart
Immediate Past National Student Vice Chair and Student Trustee
Mary E. Stuart (University of Virginia, 2019) is a current student trustee for the Omicron Delta Kappa Society and Educational Foundation, Inc. Her three-year term as one of the Society's student trustees began on July 1, 2021. In the 2022-23 academic year, she served as the Society's National Student Vice Chair and Chair of the Student Advisory Board. She is currently the immediate past national student vice chair. Mary's term on the board will conclude in June 2024.
Mary served as the UVA Circle president during her junior and senior years at the school. She completed a Bachelor of Arts with a major in English at Virginia. Mary began work on her law degree at the Antonin Scalia Law School at George Mason University in the 2021 fall semester.
A native of King George, Virginia, Mary was involved in several collegiate activities at Virginia, including the College Republicans, the Virginia Riding Team, and the Frank Batten Investment Fund. As an undergraduate, she also held positions with the university's disability access center and athletic academic affairs office. Mary was also supported numerous programs and events at the Batten School of Leadership during her time at UVA.
Katelyn Boisvert
Member, Student Advisory Board
Katelyn Boisvert was initiated into Omicron Delta Kappa as a member of the Mu Circle of Emory University in February 2019. For the following year, she served as president of her circle until she graduated in May 2020. She is now serving O∆K as a member of the Student Advisory Board.
Currently, Katelyn is attending graduate school at the University of Michigan, where she is completing a dual degree for a Master of Management through the Ross School of Business and a Master of Science with a major in sustainable systems through the School for Environment and Sustainability. She plans to pursue a career in corporate sustainability, working to increase engagement with sustainability and environmental issues in the private sector. At the University of Michigan, Katelyn is a member of the Net Impact at Ross chapter, and she is researching applications related to carbon neutrality as a member of the Climate Blue student organization.
Katelyn earned her Bachelor of Science with a major in environmental science, with a minor in sustainability sciences, in the honors program at Emory University, where she was involved in a variety of areas during her time as an undergraduate. She gained valuable experience serving as vice president of Phi Eta Sigma in 2017-18, as an orientation leader with Campus Life New Student Programs for two years, and on the Dean's Freshman Advisory Board. Katelyn was very active in educating students and raising awareness about sustainable living on campus through roles as sustainability chair with Residence Hall Council, campus zero waste ambassador, as a delegate to the 2019 United Nation's Climate Conference in Madrid, and working as a docent for the Emory WaterHub water reclamation facility. She also worked as a teaching assistant in the Environmental Science Department and as a fellow with the Emory Scholars Program. Katelyn's career-related activities included internships with the Ohio Environmental Council, Clearstream Solutions in Dublin, Ireland, and Emory's Office of Sustainability Initiatives, as well as a research internship (REU) with the National Science Foundation.
Katelyn enjoys combining her interests in the environment, the outdoors, and horseback riding in her volunteer activities. She previously served as a volunteer at Stable Influence, an equine-based therapy program for children and adults with special needs.  As a competitive athlete and team secretary on the Emory Equestrian Team, she continued this work as a volunteer at Stride Ahead during college. Katelyn also performed community service in the Atlanta area with Emory student groups, including planting trees for pollinators and stream buffers, clearing invasive species, and other environmental projects.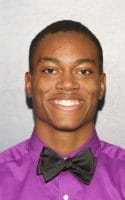 Khadeil Ergas
Member, Student Advisory Board
Khadeil Ergas (Aurora University, 2019) became involved with Omicron Delta Kappa during his junior year at Aurora. The 2022-23 academic year is his fourth year of involvement with the Society, and he is a current member of the Student Advisory Board. Throughout his time as a student leader, Khadeil's goal has always been to empower others around him to continue growing as a leader based on ODK's pillars of leadership.
Recently, Khadeil completed his Master of Business Administration degree at North Central College (NCC). While enrolled, he was the graduate assistant for the Office of Multicultural Affairs. In his position, Khadeil was in charge of outreach, ensuring that the office provided students of color on campus with the resources they need to be successful through their years at the college. He also helped organize events such as the anti-hate week and CARD training, which covers bias and unbias connotations, racism, and microaggressions for students, staff, and faculty. One of Khadeil's main tasks during his time at NCC was to create a program called Legacy, which was designed to provide support and encouragement to men of color through facilitated mentoring relationships.
Khadeil graduated from Aurora University, where he earned a bachelor's degree in exercise and health science. He also earned minors in chemistry and physiology. In his time at Aurora, Khadeil was team leader for the men's track and field team, president and vice president for Phi Eta Sigma honor society, president and vice president for the Black Student Union (BSU), treasurer for Habitat for Humanity, a resident assistant, and a peer advisor. He also held membership in Mu Sigma Pi, the Science Club, and an organization called F.L.Y. With his dedication to service and being a leader on and off-campus, Khadeil graduated with the Lincoln Laureate Award as well as an award from the Mayor of Aurora for his dedication to service.
Over the years, Khadeil has been a part of several organizations and has been in many positions where he can express his love of volunteering and giving back to the community. His first volunteer involvement started in South Carolina, where he would go to the beaches and clean up the trash in the surrounding areas. Khadeil was involved with the American Heart Association. In college, he organized a 5k to fundraise, helped make breakfast for the homeless, assisted at local food pantries, volunteered at nursing homes, and collected and distributed feminine products to young ladies on campus that could not afford them. In Summer 2021, Khadeil had the opportunity to volunteer with RUSH Medical School as a research scholar. He was also able to provide service to individuals living on the west side of Chicago, in an area where the residents are medically underserved, as well as economically and educationally disadvantaged. Khadeil's research project focused on preventative kidney screening, including urinalysis tests to identify early signs of diabetes and monitor potential needs for dialysis.
Maria (Mia) Iltsopoulos
Member, Student Advisory Board
Mia Iltsopoulos is a 2022 initiate of the Florida State University Circle of Omicron Delta Kappa. Following her graduation in 2025, Mia plans to continue her education while pursuing a professional role working in government.
As a new member of the Society, Mia wanted to get involved in the O∆K at the national level and now serves on the Student Advisory Board. She strives to enhance and bring attention to the values of Omicron Delta Kappa and works to grow in these areas herself. Not only that, but she encourages involvement in the five pillars of campus life for herself and others. These values and pillars are central aspects of her life every day.
Mia is currently a sophomore at Florida State University, majoring in psychology and minoring in criminology. Her membership in O∆K is a crucial aspect of her education and involvement in both her local community and at the national level. Mia loves that Omicron Delta Kappa provides the opportunity to get involved at local and national levels. In addition to her involvement in the Society, she is a member of another honor society and a variety of other clubs and organizations on the FSU campus.
Outside of Omicron Delta Kappa, Mia has many interests and hobbies. She is very active, whether it be doing yoga, working out at the gym, or running outside. She is very committed to her studies in both psychology and criminology and spends much of her time studying or learning more about related topics of interest. Mia is also actively working on getting more involved on campus as both a community member and a leader for her peers.
Alberto Garcia Marrero
Member, Student Advisory Board
With service at the core of Omicron Delta Kappa's mission, Alberto Garcia Marrero (Florida International University, 2017) immediately became involved with the organization during his undergraduate studies as a way to increase his involvement with my local community. After his initiation, Alberto quickly joined the executive leadership of his circle as the vice president for programming. He later served as the vice president for membership. In these roles, Alberto became familiar with the Society's leadership values of collaboration, inclusivity, integrity, scholarship, and service.
The Florida International University (FIU) Circle prides itself on the high level of engagement with our members and the community – consistently giving back to underprivileged segments of the region. Moreover, during Alberto's time as a leader of the circle, it put together its first-ever Leadership Dinner, hosting local leaders from the community to speak about their experiences and give students advice and their take on what are true leaders in the modern age.
As a third-year law student at the Florida State University College of Law, Alberto serves on the college's professionalism board, Raising the Bar, and the Student Bar Association, which provide law students with the opportunities to develop their professional and personal skills. He is also involved with We Care Chemo Kits, and Alberto now sits on the Board of Directors for the nonprofit. In addition, he is part of the First District Appellate American Inn of Court, where law students, attorneys, and judges come together to develop the profession and instill similar values of integrity, civility, and fairness in members of the bar.
Alberto has interned with the Honorable Lody Jean of the Eleventh Judicial Circuit Court of Florida and the Honorable Scott M. Grossman of the Bankruptcy Court for the Southern District of Florida. Aside from his involvement with both the state and federal judiciary, Alberto has also served as the executive intern to the Mayor of the City of Doral, Florida. In this role, he has worked on issues of local transportation, energy efficiency, and state versus federal legal supremacy. Alberto is also currently engaged with the Florida Division of Emergency Management as a gubernatorial fellow, developing his skills and understanding of the state legislature, administrative law, and the role of government in the lives of the everyday citizen to better his ability to serve as a public servant in the years to come.
One of the achievements of which Alberto is most proud is his leadership role in creating the Pathway to Philanthropy (P2P) program at FIU. P2P was created during the beginning of the COVID-19 pandemic. It focuses on helping to promote philanthropy and the ability for young alumni of FIU to give back to the university, whether monetary contributions or gifts of time. Working with the FIU Foundation, Alberto and others were able to provide young alums the ability to begin their path to philanthropy earlier in life than later in life. As of 2021, the program has generated more than $2 million in contributions to the university, from creating first-generation scholarships to funding programs such as the FIU Circle and other leadership and service entities like the FIU Center for Leadership and Service.
Christine Rice
Member, Student Advisory Board
Christine Rice was initiated into the University at Albany Circle of Omicron Delta Kappa in Spring 2020. After learning about the organization from her mentor, Christine knew that she wanted take on a leadership role to make an impact. During the 2020-21 school year, Christine served as the treasurer of her circle, and she served as the vice president during the 2021-22 academic year. During her time as treasurer, Christine was instrumental in securing honorary members of our organization and recruiting her peers to join, which led to the highest number of inductees in the circle's history. 
Christine is currently a Master of Business Administration candidate at the University at Albany, where she plans on concentrate in marketing and human resource information Systems. She is also a graduate assistant for the Department of Residential Life, as well as a summer intern at Price Waterhouse Cooper (PwC). Upon graduation, Christine plans to go into marketing and eventually plans to pursue a law degree. Her dream career is to become a marketing attorney and college professor. 
Previously, Christine, a first-generation college student, earned her Bachelor of Science in Business Administration in Spring 2021. On-campus, she is involved with Alpha Phi Omega National Community Service Fraternity, School of Business Leadership Council, Living-Learning Community Program, the Office of Career and Professional Development, and the Association of Latino Professionals for America (ALPFA). 
From a young age, Christine has volunteered with many organizations. During the past summer, she volunteered with the Down Syndrome Aim High Resource Center (DSAHRC), where she worked on developing quantitative reports as well as career-oriented presentations for the youth. In high school, Christine volunteered with the Preston Center of Compassion, where she tutored elementary school kids. Throughout her undergraduate career, it helped her realize that she wanted to continue making impact during her graduate career and beyond. 
Madyson Taylor
Member, Student Advisory Board
Madyson Taylor was initiated into the Omicron Delta Kappa as a member of the Omega Circle of Auburn University in May 2019. For the next year, she served as the director of the Auburn University Homecoming Parade. In February 2020, Madyson was elected president of her circle and served during the COVID-19 pandemic to focus on keeping the Auburn Homecoming Tradition alive. She is now serving O∆K as a member of the Student Advisory Board.
Currently, Madyson is in her second year of medical school at the University of Alabama at Birmingham Heersink School of Medicine. She is planning to pursue a career in medicine, and while she is unsure of what the future holds, she is excited to learn and prepare to be the best future physician she can be. Madyson has become involved on campus through multiple service programs such as Equal Access Birmingham, Dynamic Health, and CHOP.
Madyson graduated from Auburn University with a Bachelor of Arts with a major in chemistry and minors in business and history. During her time at Auburn, she served in multiple leadership positions and dedicated her time to service organizations. Madyson was an active member of the Student Government Association and served as a member of Freshman Forum (2017-2018), vice president of the College of Science and Mathematics (2018-19), Senator for the College of Science and Mathematics (2019-20), assistant vice president of University Operations (2019-20), and as a campaign manager for multiple student elections. She also served as director of Recruitment Operations for Auburn's Panhellenic Council, vice president of Phi Lambda Upsilon, and an Emerge student leader. In addition, Madyson volunteered her time as a Campus Kitchens shift leader. She helped reduce food waste and insecurity on Auburn's campus and as a member of Global Medical Training, where she traveled to Peru and the Dominican Republic to help provide free health care to underserved populations.
Whenever she isn't studying, Madyson enjoys spending her time swimming, hiking, tap-dancing, and baking. She also works to practice her clinical skills by practicing patient interviewing, physical examination, and educating herself on relevant topics in medicine to prepare herself for her future career.
Sean Schrader
Member, Student Advisory Board
Sean Schrader was initiated into the University of South Florida (USF) Circle of Omicron Delta Kappa in May 2021, joining more than 100 other students in the reformation of the circle. In May 2022, he graduated from USF with his bachelor's degree in business management. In August 2022, Sean began pursuing his MBA from the USF's Muma College of Business. Earlier this year, he also officially began his term as the campus governor for the USF St. Petersburg Campus in USF's Student Government. In this role, Sean serves as the voice for students on campus and works with a student cabinet to address campus-wide challenges. As governor, he primarily focuses on connecting students to community activities, providing direct outlets for students to share their perspectives, and protecting the unique environment of the campus.
Sean has always been a major proponent of providing a youth's perspective on environments that may have been overlooked or not considered. To that end, he has been involved in various capacities in the City of Clearwater, including service as a board member for the Clearwater Neighborhoods Coalition, Clearwater Charter Review Committee, and Clearwater Jazz Holiday. Currently, Sean serves as the Clearwater At-Large Representative on the St. Petersburg Clearwater International Airport Noise Abatement Task Force.
During his first semester at USF in Fall 2019, Sean was fortunate to be given the opportunity to serve as an intern in the Office of Congressman Charlie Crist, where he was able to assist in communicating with constituents and drafting congressional correspondence. At the onset of the COVID-19 pandemic, he was asked to serve as a constituent advocate. In this role, Sean assisted constituents in receiving their economic stimulus payments. In February 2021, he became the district office manager for Congressman Crist, where he helped to oversee daily office activities.
Sean is cognizant of the fact that Tampa Bay has grown to have a national spotlight due to business, sports, and community activities in the region. During the pandemic, he grew concerned about the impact the COVID-19 pandemic was having on different industries and Tampa Bay's economy. To better understand how residents could help support different industries during times of economic hardship, Sean toured different industries in the bay area to learn more about how customers could support them. His research and findings have been featured in local publications and shared at research conferences at the Harvard Kennedy School of Government and Johns Hopkins University.