Lexington, Va. (December 22, 2022) – The Omicron Delta Kappa Society and Educational Foundation Board of Trustees selected Robert M. Gates (William & Mary, 2015) as the 2022 recipient of the Laurel Crowned Circle Award. First presented in 1980, the Laurel Crowned Circle Award is the highest individual honor awarded by Omicron Delta Kappa (O∆K). Recipients are exceptional leaders in their respective fields or noted for their service in advancing leadership development. Award winners also demonstrate the highest ideals of the Society: collaboration, inclusivity, integrity, scholarship, and service.
The award was presented on December 8, 2022, in a ceremony in Wren Chapel on the campus of William & Mary in Williamsburg, Virginia. O∆K's Board Chair Sandra B. Thurmond and President and Chief Executive Officer Tara S. Singer presented the award.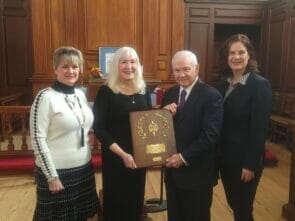 Robert M. Gates along with O∆K Board Chair Sandra B. Thurmond, O∆K President/CEO Tara S. Singer, and William & Mary President Katherine A. Rowe
Gates received his bachelor's degree with a major in history from William & Mary. As an undergraduate, he was an active member of Alpha Phi Omega, a service organization he led as a senior. Gates was also a dormitory manager and the business manager of the William & Mary Review, a literary and art magazine. At graduation, he received the Algernon Sydney Sullivan Award, given to honor splendid characteristics of heart, mind, and helpfulness to others. He received his master's degree in history from Indiana University and a doctorate in Russian and Soviet history from Georgetown University.
From 2002-06, Gates was president of Texas A&M University. He was named the 24th chancellor of William & Mary by the Board of Visitors at his investiture in 2012. Gates was re-invested for a second term in 2019. He is the first alumnus to hold this ceremonial position in William & Mary's modern era. Gates has been a trustee of the William & Mary Foundation Board. He received an honorary Doctorate of Humane Letters from the university in 1998 and the Alumni Medallion, the Alumni Association's highest honor, in 2000.
Gates began a public service career soon after graduating from William & Mary. In 1966, he joined the Central Intelligence Agency, working for six presidents for nearly 27 years as an intelligence officer. During this period, he was a National Security Council staff member for nine years. Gates is the only career officer in the CIA's history to rise from being an entry-level employee to becoming the agency's director, a post he held from 1991-93. In 2006, he became the 22nd Secretary of Defense under President George W. Bush. When inaugurated in January 2009, President Barack Obama asked Gates to continue in office. As U.S. Secretary of Defense from 2006-11, Gates became the only person in American history to serve presidents from different political parties.
In June 2011, Gates retired as Secretary of Defense. At the farewell ceremony, President Obama awarded him the Presidential Medal of Freedom, the country's highest civilian honor. He has also received the National Security Medal and the Presidential Citizens Medal. Gates was awarded the National Intelligence Distinguished Service Medal twice and the Distinguished Intelligence Medal, the CIA's highest award, three times. He is the author of three memoirs about his experiences in public service.
Past recipients of the Laurel Crowned Circle Award include business leaders, scholars, heads of large nonprofit organizations, journalists, academic administrators, and philanthropists, including former U.S. Attorney General Richard Thornburgh, former U.S. Secretary for Health and Human Services Donna Shalala, acclaimed author James MacGregor Burns, President of the United Negro College Fund Michael Lomax, and a host of university presidents and philanthropists.
About Omicron Delta Kappa
Omicron Delta Kappa Society, the National Leadership Honor Society, was founded on the campus of Washington and Lee University in Lexington, Virginia, on December 3, 1914. A group of 15 students and faculty members established the Society to recognize and encourage leadership at the collegiate level. The founders established the O∆K Idea—the concept that individuals representing all pillars of collegiate life should collaborate with faculty and others to support the campus and community. O∆K's mission is to honor and develop leaders; encourage collaboration among students, faculty, staff, and alumni; and promote O∆K's ideals of collaboration, inclusivity, integrity, scholarship, and service on college and university campuses throughout North America.  The headquarters are located in Lexington, Virginia.
Contact
Tara S. Singer, president and chief executive officer, Omicron Delta Kappa, (540) 458-5340, tara@odk.org