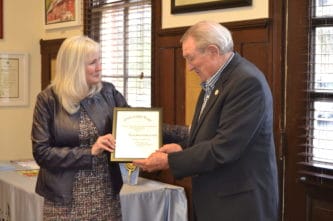 In celebration of the 85th birthday of John R. Alford (Washington and Lee University, 1958), the Thomas H. Lowder Family Foundation donated $50,000 to Omicron Delta Kappa. The gift will be used to create a scholarship fund to benefit members of the Alpha Circle pursuing a degree in post-baccalaureate degree in law. Scholarship recipients may pursue a law degree (J.D.) at Washington and Lee University or another institution; however, students must be initiates of the Alpha Circle to be eligible for this scholarship.
To say that John Alford exemplified collegiate leadership would be an understatement. At the time of his ODK tapping at Washington and Lee University, he was vice president of the Phi Alpha Delta legal fraternity, president of the Student Bar Association, president of the Law School Board of Governors, a member of the Law Review, and a member of the Phi Gamma Delta social fraternity. Prior to his ODK initiation, John served as president of the intermediate law class, vice president of the freshman law class, co-captain of the varsity baseball team, executive officer of the ROTC, and a freshman camp counselor. John's extensive involvement in student organizations earned him national recognition in Who's Who in American Colleges and Universities.
The scholarship was announced at Omicron Delta Kappa's National Headquarters on Monday, March 25, 2019. Tom Lowder (Auburn University, 1971) and his wife and John's daughter, Susan Alford Carrington Lowder, joined the O∆K staff and representatives from Washington and Lee in celebrating John's many leadership contributions.
Susan and Tom were also presented with an Omicron Delta Kappa Foundation Pillars of Leadership Award in Service on March 25th. Both are successful professionals whose interests range from real estate to wine. Tom and Susan are devoted to finding cures for Amyotrophic Lateral Sclerosis and Alzheimer's, the illnesses that took the lives of their first spouses. Their philanthropy also supports faith-based organizations and education including Tom's alma mater, Auburn University.