LGBT Pride Month occurs in the United States to commemorate the Stonewall riots, which occurred at the end of June 1969. Omicron Delta Kappa celebrates our members who identify as members of the LGBTQ+ community and who are advocates for inclusion and acceptance.
Rachel E. Aho

Concordia College, 2008
Rachel E. Aho is the director of housing at the University of Utah, a position she's held since 2019. She previously worked in housing and residence life at Western Illinois University (WIU) and DePaul University. Aho's undergraduate degree is from Concordia College, where she was initiated into Omicron Delta Kappa. She earned her master's degree from WIU and her doctorate from Utah.
Early in her career, Aho was an intern in the Office of LGBT Student Services at New York University. A focus of her work was connecting students with community partners to develop service-learning initiatives and peer-ambassador programs. She was honored in 2020 by the American Counseling Personnel Association (ACPA) as one of its Diamond Honorees. Aho was ACPA's inaugural chair of its Commission for Campus Safety and Emergency Preparedness. Also, she was one of the co-authors of the association work entitled, "A Bold Vision Forward: A Framework for the Strategic Imperative for Racial Justice and Decolonization."
Matthew Antonio Bosch

Elon University, 2019
Matthew Antonio Bosch is the recently appointed vice dean and director for community engagement and inclusion in the Office of Admissions at the University of Pennsylvania. In his new role, Bosch will focus on creating and developing an inclusive culture to enhance the operations of the unit and support prospective students. His wide-ranging career has included leadership roles in academic affairs, admissions, and diversity and inclusion, and student life.
Notably, Bosch has been the first person to serve in different positions, including his new position. He was the dean of student inclusive excellence at Elon University, the inaugural chief diversity officer at North Hennepin Community College, and the first Latino president of the Minnesota College Personnel Association. Bosch earned his bachelor's at Cornell University and his master's is from Harvard University. His doctoral degree is from the University of Pennsylvania.
James "Jamie" E. Washington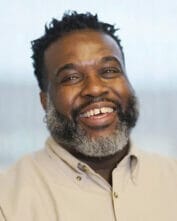 University of Maryland, Baltimore County, 1994
The Rev. Dr. Jamie Washington is the president and founder of the Washington Consulting Group (WCG). WCG provides businesses, institutions, and organizations with support in relation to leadership development and team building; support for Diversity, Equity, and Inclusion councils; healing and crisis intervention; exploring and engaging dynamics of power, privilege, oppression, and intersectionality; and cultural audits, climate assessments, and strategic planning. Washington has been on the staff of the University of Maryland, Baltimore County (UMBC), and taught at the Harvard Graduate School of Education and the Lancaster Theological Seminary. In addition, he is the president and co-founder of the Social Justice Training Institute and is a past president of the American College Personnel Association (ACPA).
Washington has served Omicron Delta Kappa in a variety of capacities. He was the president of the UMBC Circle when he was a student. Washington was a closing banquet speaker at the Society's 2018 Biennial National Convention, and he was a featured speaker at the 2022 Circle Advisor Training Workshop. He earned his bachelor's degree from Slippery Rock University, a Maryland, College Park. Washington also has a Master of Divinity from Howard University.
Karen M. Whitney

University of Texas at San Antonio, 1999
Karen M. Whitney is the interim chancellor of the University of Illinois Springfield (UIS), a position she's held since July 2020. Previously, Whitney is the president emerita of Clarion University in Pennsylvania. Before her appointment at UIS, she served as interim chancellor of the Pennsylvania State System of Higher Education. Prior to her appointment at Clarion, she was the vice chancellor for student life and Indiana University – Purdue University Indianapolis. Whitney also served in student affairs roles at the University of Houston and the University of Texas at San Antonio.
Whitney is a nationally recognized author, speaker, and consultant. Throughout her career, she has been an advocate for all students and all members of her campus and local communities.
Whitney's undergraduate degree is from the University of Houston as her master's degree. Her doctorate is from the University of Texas at Austin.