Parker Vascik, O∆K's national student vice president, and Emma Bones, another O∆K member, are participating in the 2014 Mongol Rally.  Parker and Emma are blogging about their experiences for O∆K. 
Procrastination can be a great hindrance to leaders across the world. However, Emma and I have found that procrastination on the Mongol Rally can potentially mean the end if your trip. Therefore, we are learning to tackle problems and challenges directly and expediently.
To provide you with an example, as we were driving from Turkmenbashi to Ashgabat, the capital of Turkmenistan, we began to hear a grinding noise coming from our front right wheel. At that time, we were caravanning with four other teams and were pushing ourselves to reach the Gate of Hell (a giant burning crater in central Turkmenistan) before sundown.  Knowing that we were losing daylight quickly, we were devastated to find that our break pads had been completely worn through on the front right wheel.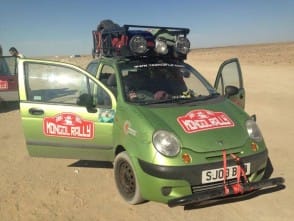 Despite wanting to see the burning crater that night, we knew this was a problem we needed to fix immediately for the our safety and the safety if the car. So, we said goodbye to our caravan and limped our way into Ashgabat using our emergency brake. We were incredibly fortunate to discover a car parts shop only a few miles down the road. We swung into the shop and began trying to find brake pads that would work for our little car. After two hours and checking with five other stores for the right pads, we were all sorted and ready to hit the road again! As luck would have it, we caught up to our caravan and spent a incredible night camping next to a fire crater in Turkmenistan.
To provide you with a counter-example, we began to hear a rattling in on the rear right side of our car as we crossed Uzbekistan. After a very cursory check, we could not determine the source of the rattle and assumed (wrongly) that it must not be a major issue if we could not see the problem. The next day as we were driving into Sarmakand, our suspension dropped onto the road and we skidded to the side of the highway to attempt to fix the issue. Once again, we were incredibly lucky and were caravanning with a British team that had the proper sized carriage bolt we needed to continue. Without their help, we could have been there all night and the next day trying to fix a problem caused by us procrastinating to address the problem.
Procrastination is part of human nature. However, on the Mongol Rally, it can mean the difference between arriving in Mongolia or losing your car on the roads of Uzbekistan! Leaders can make similar comparisons to their work, where procrastination never helps and often magnifies the likelihood of risk and failure. Our advice to leaders: thoroughly investigate every rattle and squeak along your journey – it's always well worth the effort and peace of mind!
More information about 3.F.L.P. team including Parker and Emma may be found here.