Service in the military is all about leaders, but even leaders need help throughout their personal journeys and careers. At present, there are more than 45,000 nonprofits that support active-duty members of the military and veterans. And several Omicron Delta Kappa members are involved in these organizations or working on campuses for companies that support veterans.
Counseling Initiatives
Many institutions of higher learning have Veterans Services offices. Some of these programs are much more comprehensive than others. At the University of Memphis, in early 2022, the school established the Rudd Institute for Veteran and Military Suicide Prevention (https://www.ruddinstitute.memphis.edu/). The institute is named for M. David Rudd (University of Memphis, 2014), former president of the university and a veteran himself.
During Rudd's tenure, Memphis was named to the Military Friendly® Schools List for seven straight years. When on the University of Utah faculty, he was co-founder and founding scientific director of the National Center for Veterans Studies. Rudd's research has focused on treatment strategies to prevent veteran suicide and how colleges and universities can best develop resources to support students who are actively or have previously served in the military.
Another member with a special appreciation for military personnel's counseling and mental health needs is Anthony F. Markel (University of Virginia, 1963). Markel, along with his brother Gary, is one of the founders of Operation Healing Forces (OHF). Since its founding, this organization has provided more than 200 weeklong therapeutic retreats for wounded special operators (Seals, Rangers, Green Berets, etc.) and their spouses, at large donated vacation homes around North America. OHF has hosted more than 850 special operation active duty and retired couples. Through this retreat program and a seven-figure "immediate cash needs" initiative, OHF is helping to mitigate the growing number of divorces and suicides in the Special Operations Forces community. Markel says, "Special operators and their spouses make amazing sacrifices on our behalf, and we are dedicated to helping them heal the inevitable scars that their service brings."
Colors for Communities
Several nonprofit organizations use a particular color to help brand their mission. Gold Star families include spouses, parents, children, siblings, or others whose loved ones died in service to the country. The Blue Star Families organization, whose vice chair is Gwen Bingham (Virginia Military Institute, 2021), provides support for military spouses seeking employment, addresses the food insecurity military and veteran families may face, and offers a range of other resources. White Star families have lost a family member, whether active-duty military, first-responder, or veteran personnel, to suicide.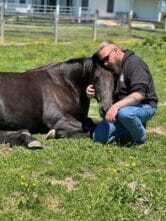 Matthew P. Cahill (Widener University, 2021) is not only the founder of Green Star Families, but he is also serving as the organization's current president. This nonprofit is fighting for federal recognition of those families grieving any military loss associated with suicide. It is estimated that more than 20 veterans take their lives each day. The organization works with legislators and has put forth a bill to the 117th Congress (H.R. 5036), which proposes that a Green Star Service Banner join the ranks of the Gold and Blue Star Service Banners, with similar benefits afforded to those surviving family members.
Cahill is also the founder of the nonprofit Veteran Equine Therapy Specialists (VETS). His other organization provides equine assisted psychotherapy to military veterans, first responders, LEO's, and medical professionals experiencing Post-Traumatic Stress Disorder (PTSD). VETS' participants work toward regaining control of their lives and reducing the instances of suicide. Cahill will join his two veteran therapists upon graduation in May expanding services to more vets. He says, "Life becomes worth it again when you stop dealing and start healing from the invisible wounds you don't think you have."
Connection
Many veterans will share that having solid employment is the first step in returning to a productive civilian life. According to the hiring platform Indeed, there are many benefits to companies that employ veterans. First, there are the financial benefits that occasionally support hiring former members of the military, including tax breaks, salary subsidies during on-the-job training, and salary reimbursement. Second, and more importantly, there are the professional skills veterans bring to the world of civilian work, including organization, leadership, accountability, and work ethic.
Numerous companies that have connections to the Department of Defense hire veterans. However, other companies such as Johnson & Johnson, Prudential, Dominion Energy, EMCOR, and Stryker Corporation also know the value of hiring those individuals who have served in the military. Col. (U.S. Army, Retired) Tom Hiebert (United States Military Academy, 2009) says, "Employers should know that Veterans bring tremendous leadership skills and capabilities, an incredible sense of loyalty and teamwork, and a strict adherence to values and ethics to the organizations they serve. They are also amazingly resilient and possess a can-do, never-say-quit attitude. Hiring Veterans is not just the right thing to do, but it is also the right business decision.
All members of Omicron Delta Kappa can support the active-duty and veteran members of the United States Armed Forces. Connecting with a campus, employer, or nonprofit that provides services to this special population is a start. To learn more about veteran-supporting and other verified nonprofits, visit https://www.charitynavigator.org/.