I spent Saturday afternoon watching my alma mater (Louisville) losing to my adopted team (Virginia). Although there was a skirmish at the end of the first half, the thing I kept thinking about during the game was Mike London's graciousness throughout his career – winning or losing. He's had less success on the field lately, but by all reports, he's had tremendous success as a servant leader, family man, citizen and mentor.
Last weekend, Coach London may have needed the win for job security, but he said he wanted the victory more for his players. Fittingly, the Virginia players were quoted as saying how much they wanted the win for him.
In recent weeks, there has been a lot of conversation about the role of football in American society – more at the professional level than at the collegiate level. However, it all raises the question of what is the role of graciousness in leading, winning or losing?
Joe Namath was quoted as saying, "You learn how to be a gracious winner and an outstanding loser." On the other hand, Knute Rockne reportedly said, "Show me a good and gracious loser and I'll show you a failure.
T. J. Addington may have the best assessment of how the concept of graciousness is perceived in many communities. He writes, "Good leaders are gracious. They treat people well and care about them. They truly see people as their most important asset. They are kind, gentle, caring and empathetic even as they provide clarity and leadership. They are not pushovers but nor do they practice pushing over."
He goes onto to say, "I am often surprised when organizations put up with leadership behavior that is substandard because the leader 'delivers.' In other words, they give the leader a 'pass' on behaviors that are truly not acceptable because they deliver results. No leader is exempt from treating those around them well. Results as the expense of people are not acceptable results – in my view."
I certainly share Addington's view. We have seen too many recent examples of where what one person "delivers" is valued in a way that reflects little respect for decency and humanity.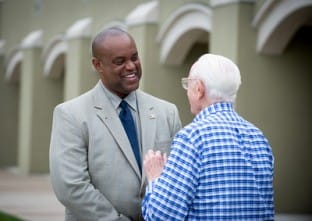 Coach London with Past National President Glenn Hilburn.
However, there are also some great examples of how graciousness in leadership involves caring both about those who follow and the example that the leader provides. Omicron Delta Kappa is very proud that Coach London is an initiate of the University of Richmond Circle, and the speech he gave to our members at this summer's Biennial Convention and Centennial Celebration was inspiring.  He told the attendees, "What a leader is … is our ability to influence, and you can do that in a positive way and in a negative way."
In other words, you can lead with grace.