We would like to spotlight some of our outstanding O∆K female members in honor of Women's History Month!
Valerie Ackerman
University of Virginia, 1979
Val Ackerman (University of Virginia, 1979) is the fifth commissioner of the Big East Conference. Ackerman was the founding president of the Women's National Basketball Association (WNBA) and is a past president of USA Basketball, which oversees the men's and women's Olympic basketball programs. She was inducted into the Women's Basketball Hall of Fame in 2011.
Ackerman earned a Bachelor of Arts with majors in political and social thought from the University of Virginia. She was also a two-time Academic All-American for the women's basketball team and was among the school's first female students to receive an athletic scholarship. Ackerman earned a law degree from the University of California, Los Angeles. She served as the president of the WBNA for eight years and was named the commissioner of the Big East Conference in 2013.
Gwendolyn Bingham
Virginia Military Institute, 2021
A trailblazer in numerous ways, Gwendolyn Bingham (Virginia Military Institute, 2021) is a retired U.S. Army three-star general who served in the military for 38 years. In 2014, she became the first woman to serve as commander of the U.S. Army TACOM Life Cycle Management Command. Bingham's other firsts include being the first female to serve as commandant of the U.S. Army Quartermaster School and the Army's 51st quartermaster general at Fort Lee, Virginia. From 2016-19, she served as the Army assistant chief of staff for Installation Management in the Pentagon.
She graduated from the University of Alabama with a bachelor's degree in general business management. Bingham has a Master of Science from Central Michigan University and a Master of Science from the National Defense University. She has received the Distinguished Service Medal, the 2019 Joint Women's Leadership in Excellence Meritorious Service Award, and the 2018 Ellis Island Medal of Honor. Currently, Bingham is the vice chair of the Blue Star Families' Board of Directors, supporting military and veteran service members and their families, including those of the fallen.
Hillary Rodham Clinton
Alfred University, 2000
Hillary Rodham Clinton (Alfred University, 2000) has served in various roles in service to the United States. She has also been a practicing attorney, law professor, writer, and public speaker. Clinton was the first woman to win a presidential nomination by a major political party.
Clinton graduated from Wellesley College in 1969 with a Bachelor of Arts, with departmental honors in political science. She earned a Juris Doctor from Yale Law School in 1973. In 2000, she was elected as the first female U.S. senator from New York. Clinton was re-elected in 2006 and chaired the Senate Democratic Steering and Outreach Committee from 2003-07. She served as the 67th United States Secretary of State under President Barack Obama from 2009-13.
Sheryl Crow
University of Missouri, 1983
Sheryl Crow (University of Missouri, 1983) is an American musician, singer, songwriter, and actress. Incorporating pop, rock, country, jazz, and blues elements into her music, she has released ten studio albums, four compilations, two live albums, and contributed to several film soundtracks.
Crow earned a Bachelor of Science in Education with a major in music education from the University of Missouri. After graduating, she worked as an elementary school music teacher because teaching during the day allowed her to sing in bands on the weekends.
In 1994, her debut album, Tuesday Night Music Club, sold more than seven million copies. The album also won Crow three Grammy Awards in 1995: Record of the Year, Best New Artist, and Best Female Vocal Performance.
She has sold more than 50 million albums worldwide and won nine Grammy Awards (out of 32 nominations) from the National Academy of Recording Arts and Sciences. As an actress, Crow has appeared in episodes of various television series.
Linda A. Livingstone
Oklahoma State University, 1980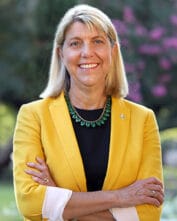 Linda A. Livingstone (Oklahoma State University, 1980) is the 15th president of Baylor University. She previously served as dean and professor of management at the George Washington University's School of Business, as dean and professor of management at Pepperdine University's Graziadio School of Business and Management, and as a tenured faculty member and associate dean of graduate programs at Baylor's Hankamer School of Business.
Livingstone earned a Bachelor of Science with majors in economics and management, a Master of Business Administration, and a Doctor of Philosophy with majors in management and organizational behavior from Oklahoma State University (OSU), where she also played varsity basketball. She was inducted into Oklahoma State University's Hall of Fame in 2019. Livingstone is a member of the Spears School of Business Hall of Fame, was the first recipient of the Outstanding Ph.D. Alumna Award, and was recognized in 2015 with the OSUE Distinguished Alumni Award.
Erisa Hines Stilley
University of Miami, 2001
Erisa Hines Stilley (University of Miami, 2001) is a NASA engineer who worked on the Mars 2020 mission at J.P.L. on the entry, descent, and landing team. She earned a bachelor's degree in mechanical engineering from the University of Miami and a master's degree in aerospace engineering and technology and policy from the Massachusetts Institute of Technology.
Stilley is also a planner for the Curiosity rover currently operating on Mars. Before these roles, she served as the Cruise attitude control systems engineer and supported Cruise operations for Mars Science Lab. Stilley also previously worked on Altair, the next generation moon lander design being developed during the Constellation program as a systems engineer and as a testbed and launch operations support engineer in her first flight project role on the DAWN asteroid mission.